The Executive Vice President and Chief Operating Officer (EVP-COO) reports to the President and is the University's chief administrative, business, and operating officer. The EVP-COO is charged by the Board of Visitors and the President with overseeing the financial and administrative operations of the University and supporting infrastructure, services, and special initiatives that have a University-wide impact. The EVP-COO partners with the EVP-Provost, the EVP for Health Affairs, and other University leaders to foster strong relationships among academic, healthcare, and administrative areas.
Across units reporting to the EVP-COO, leaders share common goals of achieving organizational excellence through continuous improvement, supporting a strategic budget model that fosters entrepreneurial and collaborative actions, and implementing a long-term financial plan to provide strong and sustainable resources to finance academic and healthcare excellence and address University priorities. Sustaining a dedicated and talented workforce, providing best-in-class technology, creating a safe learning and working environment, and fostering a culture of personal responsibility are fundamental institutional priorities supported by Operations units. For more details about areas overseen by the EVP-COO, see the Organization and Resources pages linked above.
Featured Image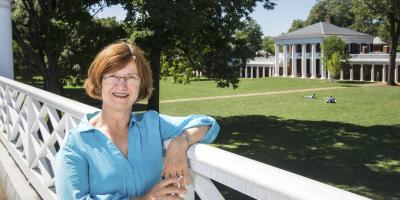 Body
UVA is filled with people doing interesting things, and newly-retired Landscape Architect Mary Hughes is one of them. After beginning her career teaching French and English, Mary turned a hobby into a new educational and career path in landscape architecture. Twenty-six years after she joined the Office of the University Architect, Mary is stepping away for another interesting chapter in her career. She and her husband will run Jump Mountain Vineyards in Rockbridge Baths, an enterprise they started in 2006. Sounds like a great place to take a spring field trip! Read more about Mary in UVA Today.